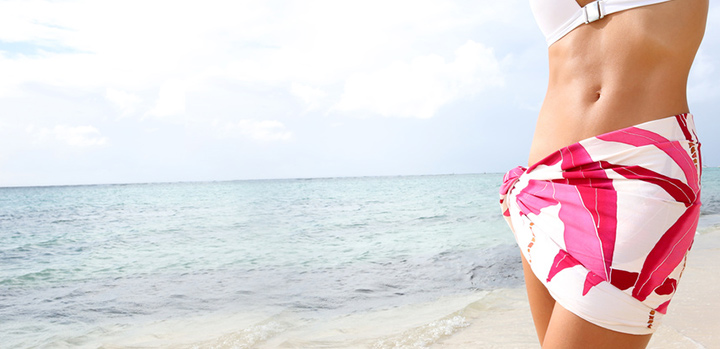 Embrace the freedom and confidence that comes with permanent hair reduction.
Liberate yourself from the constant need to shave and wax unwanted facial and body hair in order to feel and look your best. With light-based permanent hair reduction, just a few simple treatments is all it takes to permanently minimize hair growth, revealing clear, silky skin that's ready to bare every day-and all year long.
Unlike shaving that lasts days, waxing that needs to be repeated every few weeks indefinitely, or electrolysis that's tedious, permanent hair reduction is a lasting solution that takes away the everyday hassle of dealing with unwanted facial and body hair. The secret lies in the light-based technology that targets and destroys hair cells responsible for hair growth without harming surrounding skin. It's a simple approach to permanent hair reduction that's fast, easy and FDA-cleared. Best of all, treatment sessions take just minutes and are practically pain-free. It's the hair removal solution you've been waiting for.
Make the Move to Permanent Hair Reduction! 
Laser Hair Removal is available for any skin type and most hair colors.
Erase 95% of Hair in Only A Few Treatments!
What is laser hair removal?
Laser hair removal uses a low-energy laser, which passes through the patient's skin, being absorbed by the pigment in the hair follicle. Each pulse of the laser targets and inactivates a large number of hair follicles. Approximately 3-6 treatments are necessary, although some people do require more treatments.
Popular areas of treatment include the brows, lip, chin, chest, shoulders, neck, back, legs, thighs, arms, underarms and ears.
Is the hair removal permanent?
During each treatment session, a certain percentage of the hair follicles are damaged such that hair will not grow from them again. With each treatment session, additional hair follicles are damaged until hair is completely absent in most cases.
Is the treatment painful?
There is some discomfort during laser hair removal, but the pain is generally less than waxing or electrolysis. Depending on how aggressive the treatment session is, the skin may be slightly to significantly pink following treatment. Our certified aestheticians offer a potent numbing medication, which significantly dulls the pain. Preparation for laser hair removal treatment
For maximal results, it is best to avoid tanning as well as spray tanning for approximately 7 days prior to treatment. The area to be treated should be shaved immediately prior to the treatment. The aftercare is minimal. Sun exposure should be avoided for a few days after treatment.
X-Small Area… $90.00 
Maintenance… $45.00
Areola, Ears, Glabella, Lip, Navel (Circle Around)
Small Area… $140.00 
Maintenance… $60.00
Chin, Feet, Hands, "Happy Trail", Anterior Neck, Bikini Line, Posterior Neck, Small of Back, Underarms
Medium Area… $240.00 
Maintenance… $120.00
Abdomen, Brazilian Bikini, Buttocks, Chest, Full Face, Scalp, Shoulders
Large Area… $320.00
Maintenance… $160.00
½ Arms, ½ Back, ½ Legs, Chest & Abs, Full Face & Neck
X-Large Area… $400.00
Maintenance… $200.00
Entire Arms, Hands & Fingers, Entire Back & Top of Shoulders, Entire Legs, Feet & Toes